Do you want to meet a prehistoric animal? Join a Myskoxguidning at Myskoxcentrum. You will see Musk Oxen at very close range. Your guide will tell you about Muskox history and our extant work. A visit to our muskox exhibition makes the visit complete.
Guided tours

Muskoxtour starts at Härjebrygg, Bygatan 3
in Tännäs. We begin with general information about the musk ox and a review of the tour, then we go a few miles in their own cars to Myskoxcentrum (think of the environment , please carpool or follow in the guide's car that can accommodate 8 people) . There we go first up in the observation tower where the guide shows and tells how the musk ox have lived and are living in our mountains. Then we continue to muskox park - here we come very close to the musk ox . Your guide will tell and show you about muskox history, way of life and a exhibition.

Personalize your clothes to the weather, boots or boots is not needed . Dogs and other pets are not allowed into the myskoxpark. The tour takes about 1-1.5 hours .

Book your myskoxtour www.myskoxcentrum.se or call 0684-155 80. NOTE Guided tour booked at least 1 hours before the start, then given the option to Drop-in is subject to availability att Härjebrygg, Bygatan 37 in Tännäs.

Guided tours in 1,5 hours length, starting at Härjebrygg, Bygatan 37 in Tännäs


Kl 10.00–11.30 (every day of the year)
Kl 12.00–13.30 (every day of the year)
Kl 14.00–15.30 (13/6--28/8)
Kl 16.00–17.30 (20/6–15/8)

Prices
0-7 years Free
8-15 years 80 SEK
Adult 180 SEK
Show more
Book now - choose start date and product
Lägenheter
Distance: 13.6 km
You can't stay any closer to the slopes on Funäsdalsberget than this. Newly built, well-furnished apartments with ski in- ski out location on Funäsdalsberget. Accommodation from 2-bed to 10-bed apartments.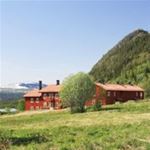 Lägenheter
Distance: 13.4 km
Modern, well-furnished apartments with self-catering approx. 150 metres from the lift at Funäsdalsberget. All apartments have a dishwasher, washing machine, sauna, fire stove and wireless internet. The size of the apartments is 54 sqm and 74 sqm, from 4-6 beds.
Lägenheter
Distance: 13.5 km
Accommodation ner the slopes, about 75 metres from the lift. Built in 2011 Bright and modern apartments with all amenities. The apartments are between 62-84 sqm and have wonderful views of the mountains and Funäsdalsberget. The apartments have a sauna, fire stove, wireless internet, drying cabinet, washing machine, porch between kitchen and sauna and own ski storage.